Orgapack ORT250
The Orgapack ORT250 is a battery powered strapper designed to work with poly straps. It accepts straps of width ranging from 1/2" to 5/8". This is a combination tool that pulls tension and applies a friction weld seal. It is a versatile tool that can be operated in different modes. This includes manual, soft-corner mode, semi-automatic, and fully-automatic modes. It weighs just 8.6 lb and generates adjustable tension of 90 lbf to 560 lbf.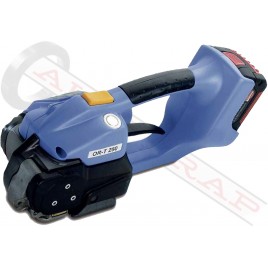 Technical Specifications
The key technical specifications of the Orgapack ORT-250 are as follows:
Strap Quality: Polyester & polypropylene strapping
Strap Width: 1/2" to 5/8" (12-13mm to 15-16mm)
Strap Thickness: 0.019" to 0.040" (0.5mm to 1.0mm)
Weight: 8.6 lb (3.9 kg)
Tension: 88-335 lbf (400-1500N) (Soft corner mode) & 200-560 lbf (900-2500N) (Standard mode)
Tension Speed: 8.6" per second (220mm per second)
Seal: Friction Weld
Cycles: 200-400 cycles per charge (based on tension, strap & package)
Recharge Time: 75% charging within 15 minutes
The poly strapping tool has an ergonomic design and light weight that makes it perfect for single-hand operation. The battery can get fully charged within 30 minutes and can last for up to 3000 charges.